Pendulum level switch, MS-1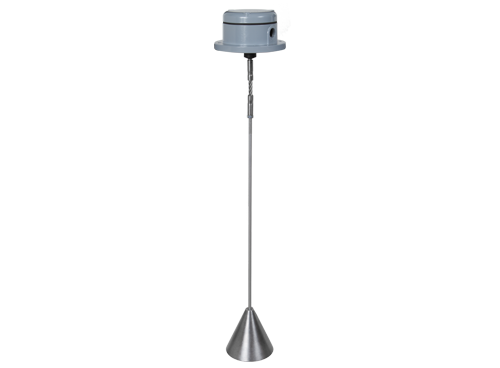 Pendulum level switch, MS-1
Price And Quantity
Piece/Pieces

38000.00 INR
Product Specifications
-25 TO 80 Degree C Celsius (oC)

250 VAC Volt (V)
Mechanical Switch

Aluminium
15 A / 250 V AC Volt per ampere (V/A)

250 VAC Volt (V)
-25 to 80 degreeC Celsius (oC)

Grey
Product Description
The level indicator observes the filling level as a limit switch in silos and vessels. It can be used as a full and empty indicator for dusty and powdery, granulated and grainy bulk goods with a maximum grain size up to 100 mm and with a bulk density of 0.3 to 3 t/m3

The cone sensor must to be exposed to the material. The bulk goods, being dumped beside the pendulum, move the pendulum more aside as the filling level increases. This movement,
approximately
10 degree of the rod- sensor, activates the switch for the full indication.
When the filling level falls, the pendulum moves back in the vertical position and the switch is disengaged.
The model "MS-1 SR" has a regulation system by a spring that allows the adjustment of the sensitivity. Tightening the regulation nut to reduce the sensitivity and increase the strain of the material to activate the microswitch. Clockwise insensitive.
Drill 4 holes in the top of the silo or vessel and mount the indicator using screws, rods, fasteners or nuts M6 making sure of the vertical position of the rod.
Rod length
Standard 500 mm
(Other lengths under request)
Product density
0.3 t/m

3

... 3 t/m

3

Maximum pressure
+0.5 bar
Cable entry
M20x1.5
Switching voltage
250 V AC
Switching function
1 NO + 1 NC
Capacity of the contact
15 A / 250 V AC
(for resistive loads)
For inductive or capacitive loads
Bulk good temperature
-25 °C ... +80 °C
Ambient temperature
-20 °C ... +70 °C
Type of protection
IP66 according DIN EN60529
Weight
1.15 kg
Materials:
Housing
Aluminum, RAL 7001 coated
Rod
Aluminum
(Under request Stainless Steel)
Cone
Aluminum
(Under request Stainless Steel probe)
Folding bellow
NBR